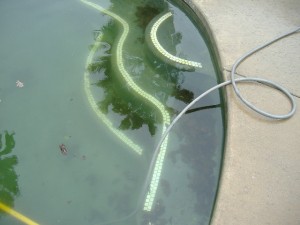 Algae are extremely common single-celled microscopic plants that can be quite the nuisance for a swimming pool owner as well as the service provider. There are several thousand species of algae that can take residence in your pool and spa. Millions of algae spores are carried by the wind every day and end up in outdoor pools and spas.
Some algae can reproduce so quickly that your pool can go from crystal clear one day to cloudy and green the next day. This is why prevention of algae is such an important element to maintaining the integrity of your pool.
Algae are most commonly grouped by color. They are; black, green and mustard. You can see samples of all three colors in the above photographs.
Black Algae: Forms in cracks and crevices on pool surfaces, especially in plaster finishes. Black algae love to live in the shady areas of your pool.
Green Algae: is often free-floating turning your pool water green. It can also cling to the walls making green patches. Green algae can cause surface damage if left untreated as well as clog filters.
Mustard Algae: Mustard algae are possibly the most misdiagnosed form of algae because it often resembles dirt or sand. It can be brushed away very easily but quickly returns.
Preventative care is key in keeping algae from your pool, but should algae take hold we are ready to treat it immediately.